The rights to privacy and anonymity of the online community and within the norms of our daily routines as human beings is a virtue which has been inevitable for decades but ignored in essence by majority of countries/governments around the globe.
Enter SecureMixer
The concept of blockchain & cryptocurrencies came forth on the rides of online transactional anonymity and financial defiance to authority which became popular because their programmers touted them as being private and secured. It has, however, emerged that they are not and that transactions undertaken using crypto can be traced and monitored by lurking snoopers.
Over time, with the increased government scrutiny and unwanted invasion by phishers, users now realize that the cryptocurrency world is not as anonymous as most of them were led to believe. Leaving them in paranoia and fear of crypto transactions given the notion that a snooper(hacker/government) can head over to the blockchain ledger board and be able to analyze and monitor any transaction's origins, destinations, and various different variables if they wish to… which defiles the sole rights to privacy as such.
SecureMixer is changing all this and giving back cryptocurrency enthusiasts their security and privacy as the 1st ever crypto currency mixer with an in-build A.I (Artificial Intelligence) chamber designed by experienced cryptography experts to ensure the mixing modulation disengages terminal linkages of origin and destination of transactions leaving neither trace nor footprints on the blockchain, thus making the origin and destination of the cryptos completely anonymous(Invisible) to snoopers.
The entire mixing process on www.securemixer.io occurs over a private bullet proof network with end 2 end encryption making it immune to attacks and data leakage.
Why SecureMixer?
* Two Pools System:
Our operations dwell within MP2C i.e using 2 pools where receiving and sending is always different. One pool only receives funds, the other only sends.
* Multi Crypto Support:
Securemixer.io lets users mix Bitcoin, Litecoin, Bitcoin Cash and Ethereum instantly.
* Automated Interface – A.I Controlled:
Equipped with fully automated A.I interface which ensures you get your clean coins immediately after mixing without delays.
* Logless Transactions:
We do NOT store transaction data/logs and coins are safe to use after mixing session is completed/
* Bullet Proof Server Connections:
Our off-Shore servers are impenetrable and are placed in unique data centers hence rendering their systems and operation immune to all sorts of attacks.
* Untraceable mixing:
Cryptos mixed through our website(www.securemixer.io) cannot be listed by blockchain analysis or other forms of research. As a result, all mixed coins are protected and untraceable.
How It Works?
Step1: Select the Crypto-Currency you want to mix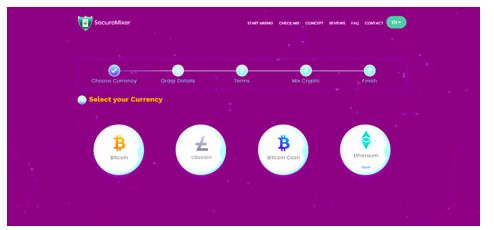 Step 2: Enter receiving wallet address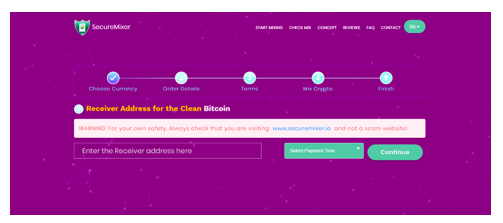 Step 3: Send coins for mixing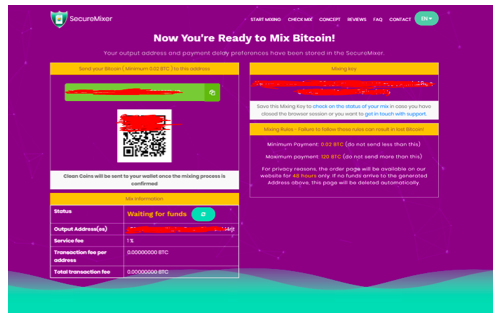 Step 4: Receive Clean and Untraceable Coins
We are neither associated nor involved in the promotion of criminal activities, but merely providing a solution that protects the privacy and identity of crypto transactions, and bringing a new phase where crypto holders/users can transact at ease without worrying about someone monitoring their every moves, and activities on the blockchain.
''Not everyone who mixes crypto currency is a criminal, some people simply crave for privacy to that extent'' – by Clerk CEO. SecureMixer.io
More details about cryptocurrency mixing and the SecureMixer platform can be gathered through the official website: securemixer.io
Contact Info:
Website: www.securemixer.io
Email – [email protected]
Telegram – @securemixer